The Holy Spirit is invited us to come apart to focus on Jesus and sit in grateful adoration in His Holy Presence for 21 Days from 1-21 February 2023. But now He never wants this to end. 

We offer times [listed below] when you can join others from across Australia and our South Pacific region on Zoom. This will include Spirit led worship, stillness, soaking, listening prayer and sharing.

It is a call to consecration and reformation. Will you give God time to comfort you, convict you, heal your heart and shift your mindsets and from doing things your way? Sitting at Jesus' feet can help position us in God's holiness and timing – so we can catch the waves of God's love, revival and glory that are coming.

God invites you to rest in Him to prepare you for all He will do in 2023!



Our thanks for your partnership in 2022

Thank you, watchmen ecclesia, for carrying the prayer assignment with us for the Victorian election through 2022! We are grateful that God is cleansing and rebuilding Victoria's foundations and that righteous people are taking a stand – which in time will become a righteous government.
Invitation: With us, bless the Australian Christian Lobby
Invitation: Celebrate our Christian Heritage Sunday on 5th February – on the Tenth Anniversary of NCHS.

Thanks to those who stood with me during an unexpected intercession in Fiji during December 2022. We saw the victorious appointment of Sitiveni Rabuka as the new Christian PM in Fiji!
There are such critical things happening across our region!
Invitation: We invite you to uphold our neighbouring nations to stand as one in the Lord's purpose across the Great Southlands of the Holy Spirit.

2023 will be momentous!

In this first PIPES: Partners in Prayer & Evangelism letter in 2023, we'd like to share what we see God doing to help you understand the significance of our times and and the significance of preparing your heart by sitting at Jesus' feet (1-21 February). We will feature some amazing testimonies, resources and opportunities to equip you to arise.

1. A Wave of Revival

God is moving in unprecedented ways and with incredible momentum in a wave of revival that will lead to a great harvest. We have a profound sense of anticipation and desire to be humbly positioned, equipped and ready to take our part.
Be inspired: The Summary Report from the Australian Prophetic Council (January 2023).

Opportunity: Leading up to Sydney World Pride (17 February – 5 March 2023) you could join us to pray for a wave of God's love to flow through Sydney and those coming from across the world. This is an opportunity for many to encounter God's love, mercy and truth through those who pray for them and represent Jesus to them and share the good news of Jesus' love and power to save!
Be equipped: Join The Harvest and Australia for Jesus

2. Living Unoffendable
God is convicting us to be unoffendable – to confess anger, bitterness, judgement and unforgiveness and open our hearts to healing and reconciliation in our relationships.
Be equipped: Living Unoffendable w/ Patricia King and Liz Wright and Forgive Stories. 29.14mins
Be inspired: Indigenous Leader Advocates for Unity on Australia Day 1.17min
Ps. James Dargin, a beloved brother from our National Forgiveness Week team, spoke out on Australia Day, calling for January 26 to be a day of forgiveness and unity. After seeing the video below, WIN Channel 9 interviewed James yesterday, and The Advertiser posted it on Tik Tok where it received over 20,000 views in 7 hours. A radio station in Adelaide interviewed James on Friday 27th January. Please uphold James, his niece Fiona, their family and message.

Opportunity: Ask the Lord to convict you of any unforgiveness in preparation for our National Day of Forgiveness – 1 February and in i4Give week, 1-7 Feb.
Please uphold the i4Give families and teams, and National Forgiveness Week teams.

Opportunity: You could us to stand with and pray for the i4Give and National Forgiveness Week movement in Australia, PNG, Bougainville and beyond on Thursdays 4-6pm AEDT Zoom: https://zoom.us/j/3971025928

3. Your Kingdom Come on Earth as in Heaven

When Jesus comes as the Lord of Hosts, with His angelic hosts, He comes to rule and reign through an ecclesia who will agree on earth with His Kingdom come in our spheres of influence.
In late October our team was taken into the Central Desert and invited into four Aboriginal communities where we saw salvations, miracles of healing, new freedom in worship and signs and wonders. Our team (& others) saw the visible presence of the Lord of Hosts with thousands of angels in armies, who moved with us through Uluru, Alice Springs, Haast Bluff and back across the Victorian border. We saw territorial spirits were moved away as angelic hosts took up high positions.
When we returned, we read Dean Brigg's book associating the coming of the Lord of Hosts and His angel armies with the role of the ecclesia. This confirmed to us that we have entered a critical time for us all to arise together in Jesus' name and agree with His will being done and His Kingdom come. We are called to be Jesus' ecclesia in our spheres of influence – and to maturely represent Him and His Kingdom to those around us.
Must Read: Dean Briggs, Ekklesia Rising: The Authority of Christ in Communities of Contending Prayer
Opportunity: On Saturday 27 May, our Our National Day of Prayer & Fasting, you could stand with your local church and community to pray to the Lord of the harvest for harvest workers – local and overseas missionaries and evangelists. Pray we are unashamed to share the gospel and testify to the goodness of God our Father and all Jesus has done in our loves!

4. There's a war going on in the heavenlies
The enemy is working hard to undermine God's reign in us and to distract us from what God is doing but, "when the enemy comes in like a flood, The Spirit of the Lord will lift up a standard against him." Isaiah 59:19

The heavenly army that we saw assembling in late October is fighting a crucial battle in the heavenlies over Central Australia. In the midst of this spiritual battle, the enemy is lashing out to accuse, steal and destroy the next generation of Aboriginal families – as is evident in the present violence in Alice Springs. But God's First Nations people in this land are arising to release a new sound of hope, restoration and reformation that flows directly from heaven. (Romans 8:18-31)
Must Read: This new sound is well described by Katie Dunstan, Ancient Keys to a New Sound Rising form the Land: Prophetic Insights to Unlock the New Era.
Opportunity: Let us know if you are called to stand (Ephesians 6:10-20) or directly support pastors who are ministering in Aboriginal communities in Alice Springs.
Opportunity: Pray for and give financially to complete the preparations for the first gathering at The Forgiveness Cross on Memory Mountain at Haast Bluff in the centre of Australia – so people from across Australia can gather there this Easter (Sunday 9 April 2023) when, we hope, the Ikuntji community will turn on the lights of the Cross. Memory Mountain commemorates a revival in the 1930's when four Aboriginal evangelists came and God sparked a revival that led hundreds to be saved and baptised. Our team was at the foot of Memory Mountain in late October 2022 and can testify that it is a place where heaven meets earth and earth meets heaven.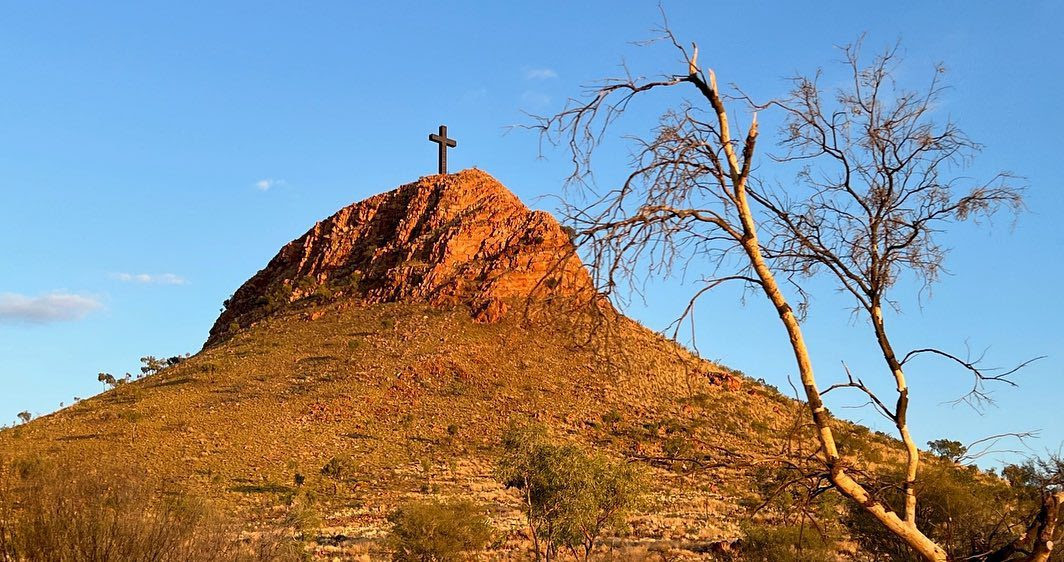 Sit at Jesus' Feet: 1-21 February

Jesus stirs in our spirit, Mary's response to Gabriel,
Luke 1:38 "Be it unto me according to your word."

Jesus in His grace asks us to entrust Him with our pressures, burdens and even our God-given assignments.Luke 10:41-42 "And Jesus answered and said to her, "Martha, Martha, you are worried and troubled about many things. But one thing is needed, and Mary has chosen that good part, which will not be taken away from her."

Jesus invites us to turn from all distractions and all others to Him.
We hear Him say, "I am jealous for you!" "Are you jealous for Me?"
Jesus likens this time to a 21 Day rest before birthing.
A 'baby-moon' is a honeymoon time of intimacy, rest and reflection before the birth. God is birthing a momentous shift – HIs Kingdom breaking in to reign on earth!

We are expectant! This birth is imminent and will come whether we are ready or not. We recognise the signs of birthing – the waters breaking, the pressure increasing and the rhythmic waves that open the way for breakthrough. Ps Mark & Carol Kinbacher from remote PNG have confirmed the Lord is preparing his people for birthing, for a new season!


Rest with us at Jesus' Feet: ongoing.

Sit at Jesus' Feet with Prayer Call
(an ongoing Morning Watch & Worship community)
Mon-Sat 6:30am-7:00am AEDT Pray in the Spirit
7:00am-9:00am Sit at Jesus' Feet with Prayer Call hosts.
Zoom: https://zoom.us/j/2645754224
Password: OneinHim

Sit at Jesus' Feet with our national Pray4Victoria team
2.00pm-4.00pm AEDT Mondays 6 Feb, 13 Feb, 20 Feb -Sue Tinworth
Zoom: https://zoom.us/j/3971025928
No Password

Sit at Jesus' Feet National Forgiveness Week/ i4Give team
4.00pm-6.00pm AEDT Thursdays 9 Feb – Sue Tinworth and 16 Feb – Linda Straw
Zoom: https://zoom.us/j/3971025928
No Password

We invite you to join us, freely united in One Spirit, to seek His face and heart in a deep surrendered position of adoration. There will be opportunity to share arising revelations.

A charming confirmation of this call to Sit at Jesus' Feet

Ps. Isi de Gersigny from Jubilee Church in Sydney and Australian Prophetic Council NSW released this word the same day we prepared this invitation.

'Sit'… He said.
'Sit with me a while…
There will always be fields – there will always be new days filled with wind swayed work….but I am and always will be. And if I am, you are, so come and be with me. There will always be voices calling and words filling airwaves…but I am Word-filled-wisdom and I made you from Word-seed, carved your name on my tree – so come and listen to the sound that surrenders. There will always be more days, more ways and a foray of other needs gleaming in your view…but I can put into focus the blur of your whys and why nots – so come and I will show you what moves me and uncover what is in shadow.
Sit here in the middle of the maze of more and be surrounded by all that surrounds me….
I am the still life before the motion….
I have put a chair out for you….
Sit with me a while….'

A foretaste…
When you have 10 minutes you may like to sit comfortably and close your eyes and be caught up in His Presence… "I just want to sit here at Your feet. I'm caught up in this holy moment. I never want to leave. I'm not here for blessings, Jesus, You don't owe me anything. More than anything that You can do, I just want You. Nothing else will do.
Gratefully offered to you by Katina Tsiglopoulos with Sue Tinworth and many others.
PIPES: Partners in Prayer & Evangelism
www.partnersinprayer.org.au
sue@partnersinprayer.org.au