Can you picture our country covenanted to God, living in the blessing of His Kingdom come – in His love, righteousness, peace and joy?



There are two significant gatherings:

1. First Nation Leaders have heard God's Call for First Nation People to gather in Solemn Assembly at Uluru in September 2023 over Yom Kippur.

This time of deep and solemn repentance before God and between First Nation people will be preparation for the second gathering of First Nation Leaders from around the world in Jerusalem in October 2023.

Descendants of the 'Covenant People of the Land' (those who made the first covenant agreement with other spirits on this land of Australia) are convicted that before they can sign a covenant with the God of Israel, they first need to repent of all sin and break any ties that remain from idolatry – specifically the ancestoral worship of fallen angels – ancestoral spirits, demons, powers and principalities.

Psalm 24:3-4 Who may ascend to the hill of the Lord? Who may stand in His holy place? He who has clean hands and a pure heart, who has not lifted up his soul to an idol, nor sworn deceitfully.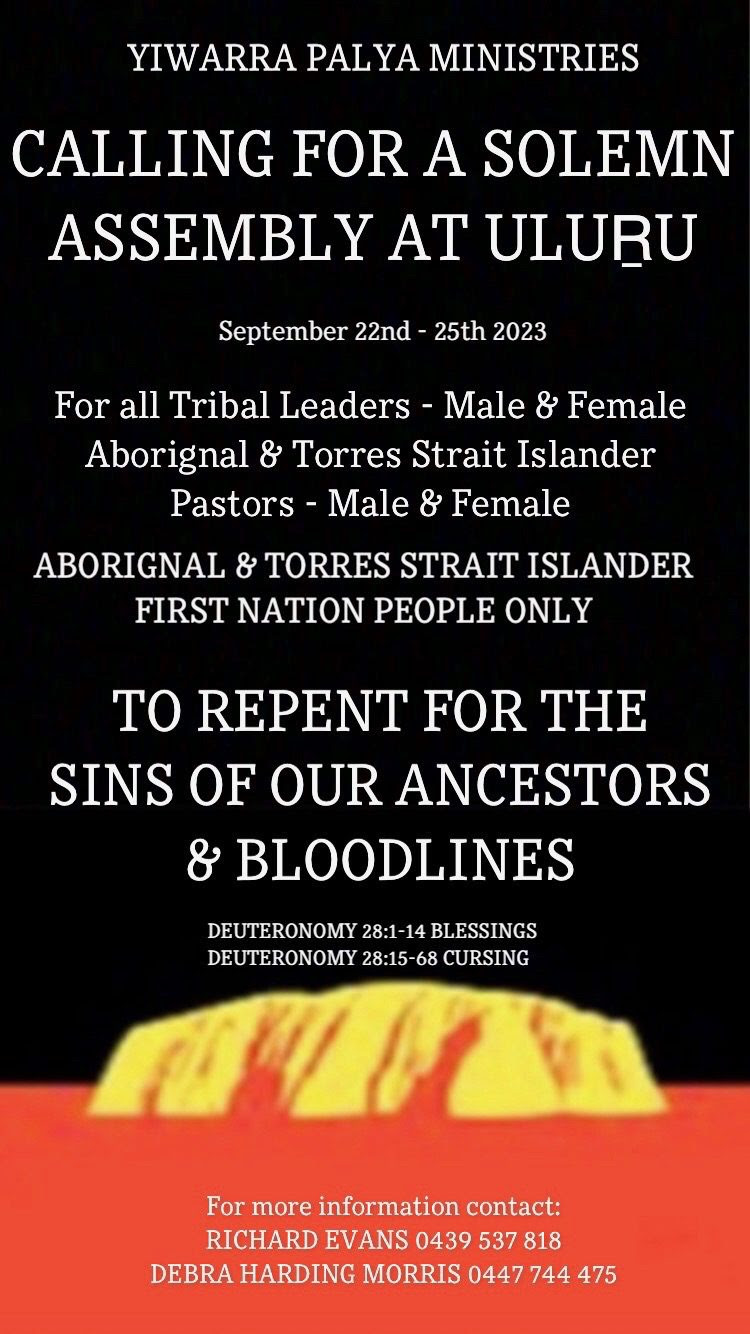 2. Early in 2023, First Nation Leaders were invited by the Messianic Congregations of Israel to 'Welcome the King of Glory in Jerusalem and sign a covenant with the God of Israel covenanting their land to God.

A group of First Nation Leaders have understood the importance of this call and are spreading the word to other communities through 2023. And God has confirmed His call mightily with many tribes desiring to sign this covenant.
Elders of the Tribes of the Land of Australia are preparing now to travel to Jerusalem this October,
to bring these covenants and to sign a covenant with God on behalf of our nation.

First Nation Leaders are also coming from across the Pacific, Asia and Europe.



See the part all Australians have in this and the deep benefit this has for your whole nation…


Restoration of the Land of Australia back to the Creator, the God of Israel
by Deborah Harding-Morris


Thy kingdom come thy will be done on earth as it is in heaven…

We are in a time when God is working through His people in the nations to bring His glory. 

In October this year a 'Welcoming The King of Glory' gathering has been called for First Nation tribal elders (Covenant People of the Land) in Australia to come to Jerusalem and covenant their tribal land back to YHVH, the God of Israel.

The 'Welcoming The King of Glory' event is taking place from 11th to 14th October. This is a once only event and is the call of God in this land for this time.

A National Solemn Assembly for Aboriginal people has been called in September for the people of the land to repent on behalf of their ancestor and bloodlines and to divorce themselves from any covenants or agreements made with Baal and other false Gods. 

Aboriginal people know it is our time to stand as one before God for this land in repentance, seeking His mercy. 

From repentance at Uluru a group of leaders will be travelling to Jerusalem to take signed covenants on behalf of many tribes across the land to recovenant our land back to the one who created us, the God of Abraham Isaac and Jacob, The God of Israel.

This action by Aboriginal leaders will impact all people who live in this land and all forthcoming generations. It will bring a freedom in our land for righteousness to come forth in a greater level.  Our nation has been called to be Holy and this act of repentance and recovenanting the land is expected to bring forth a greater glory of God over this land for His Kingdom purposes to go forth. (Habakkuk 2:14) 
This is not an action that all people can do….only tribal covenant people of this land can answer this call.  Many Elders have responded and are spreading the word for tribal leaders from the north, south, east and west to take hold of this opportunity to bring our land back to The One who created all things. 

Australia, we need all people who live in this land to walk this with us. 
We can do our part but we need you also to take part in this most significant action for this land, the people who live within it and the generations to come.  This is for the benefit of us all.  There is need for support, both spiritual and financial, for this to be achieved. A delegation of 15 Elders have said yes to going to Jerusalem to carry this responsibility. 

Can you support them to carry out this duty on behalf of your family, your children, and our future generations?
The cost of the trip is $5,000 per person which is $75,000 in total. 
Funds are needed as soon as possible to book group flights and accommodation.
Please pause now and pray about this.  

  Contributions can be made to the following account:                        
Debra Morris ANZ Bank  BSB 013711   Acc 642087291                       
(This is a temporary account awaiting the ministry account to be finalised.)

Updates will be sent out to all who contribute and would like to be kept up to date with the progress and outcome of this significant call to action. 
Email me at 2ndgenerationcreation@gmail.com

I cannot stress enough to people the significance of this gathering for our land and all people living here.   This is part of the restoration of YHVH's Kingdom, the restoration of All His creation coming back to Him.

Thank you for your support. It is greatly appreciated by all of us and will contribute to the fruitfulness of this land coming forth.

Shalom in Yahshua,
Debra Harding-Morris
2nd Generation Creation
0447744475
Email: 2ndgenerationcreation@gmaikl.com





See the background to this call:  WHY YOUR NATION SHOULD MAKE A COVENANT WITH THE GOD OF ISRAEL IN JERUSALEM OCTOBER 2023 by Milo Siilata, Pacific Coordinator, All Pacific Arise Email:milo@pacificarise.comtext

Milo Siilata brought this invitation to a significant group of Australian leaders on 22nd February 2023.Within days, the Lord confirmed this invitation by leading us to teaching by Dean Briggs from IHOP Kansas City. Dean was on a tour of Australian cities at this time, in preparation for the World Prayer Assembly.

Legislating in the Divine Council by Dean Briggs
provides significant background on how critical this is for this time in the world.
https://www.youtube.com/watch?v=hpf53p_AhPc&t=4s&ab_channel=DeanBriggs


We each face a very serious choice:

Will you bow to worship the God of Israel in Zion
or bow under captivity to fallen angels – represented by Babylon?


Deuteronomy 30:9 I have set before you life and death, blessing and cursing; therefore choose life, that both you and your descendants may live.

Deuteronomy 6:4-7 NKJV The Greatest Commandment 4 "Hear, O Israel: 
[Footnote: The Lord is our God, the Lord alone, i.e. the only one] The Lord our God, the Lord is one! 
5 You shall love the Lord your God with all your heart, with all your soul, and with all your strength. 6 "And these words which I command you today shall be in your heart. 
7 You shall teach them diligently to your children, and shall talk of them when you sit in your house, when you walk by the way, when you lie down, and when you rise up."

Hebrews 12:22-25 …you have come to Mount Zion and to the city of the living God, the heavenly Jerusalem, to an innumerable company of angels, to the general assembly and church of the firstborn who are registered in heaven, to God the Judge of all, to the spirits of just men made perfect, to Jesus the Mediator of the new covenant, and to the blood of sprinkling that speaks better things than that of Abel. See that you do not refuse Him who speaks.

Bow today and enter eternal worship before the King of Glory in His Victory!

Revelation 19:1-5  Heaven Exults over Babylon
1 After these things I heard a loud voice of a great multitude in heaven, saying, "Alleluia! Salvation and glory and honor and power belong to the Lord our God! 
2 For true and righteous are His judgments, because He has judged the great harlot who corrupted the earth with her fornication; and He has avenged on her the blood of His servants shed by her." 
3 Again they said, "Alleluia! Her smoke rises up forever and ever!" 
4 And the twenty-four elders and the four living creatures fell down and worshiped God who sat on the throne, saying, "Amen! Alleluia!" 
5 Then a voice came from the throne, saying, "Praise our God, all you His servants and those who fear Him, both small and great!"

Be blessed as you join heaven in worship:
Holy Holy with Uwana Etuk and Sinmidele
https://www.youtube.com/watch?v=Kw8Yhy8iYkE&ab_channel=UwanaEtuk

The silent burden of this call has kept me in deep intercession before the Lord since February. I could not write to you until the First Nation Tribal Elders and Church Leaders and communities had time to hear and consider this call. Until we had permission to release this call I wrote nothing – because nothing else carries the significance of this – in 2023, in our life time, in the history of Australia, in this continent.

# Will you now share this widely with those who may join us in prayer and provide financial support for this turn around point in our nation?

# Will you pray First Nations People throughout the earth will covenant with God and so close the evident access of God's enemy to kill, steal, destroy, lie and accuse them?

# Will you covenant yourself and your household to God and God alone, repenting of all personal and ancestoral sin – including idolatry that has led to perpetuating covenants and curses through freemasonry, witchcraft and new age practice?

Enter into joy filled grateful worship and open your heart to receive all our Lord has prepared for those who love Him!

On behalf of the PIPES team and our colleagues,
Sue Tinworth
+61 418 389 419
sue@partnersinprayer.org.au
www.partnersinprayer.org.au